---
The Vocabulary of Archbishop Vincenzo Paglia
---
Speeches 2020
---
---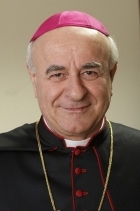 Abp. Vincenzo Paglia was appointed President of the Pontifical Academy for Life on August 15, 2016.
---
Abp. Paglia about the Encyclical Letter: Fratelli Tutti. Fraternity will resuscitate us
---
The art of prayer. The company of the Psalms in difficult times.
By Edizioni Terrasanta, Milan 2020
From the introduction: The whole life is in the psalms: from when we were still in our mother's womb, to birth, youth and old age. The psalms urge the believer to turn to the Lord to praise and thank him, to beg and call upon Him, to ask for forgiveness and help, or to claim justice and to ask for harsh repression of those who operate evil. Everything in the psalms is dialogue, confrontation, prayer: God and man speak to one another".
---
AUDIO - Pandemia y Fraternidad - Abp. PAGLIA - CELAM 23 junio 2020 - Espanol
---