Ukraine. Press Release from the Presidency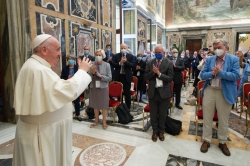 The Presidency and the Central Office of the Pontifical Academy for Life unreservedly adhere to Pope Francis's appeal against war: «Jesus taught us that the diabolical senselessness of violence is answered with God's weapons, with prayer and fasting».
The Pontifical Academy for Life is nearby and prays for people suffering from this conflict and for other conflicts in the world. We are close to our Ukrainian academics Prof. Fr Ihor BOYKO, prof. Ivan LUTS, Prof. Sr. Olha Giustina HOLUBETS and their families.
Vatican City, February 24 2022
----------------------------------
La Presidenza e l'Ufficio Centrale della Pontificia Accademia per la Vita aderiscono senza riserve all'appello di Papa Francesco contro la guerra: «Gesù ci ha insegnato che all'insensatezza diabolica della violenza si risponde con le armi di Dio, con la preghiera e il digiuno».
La Pontificia Accademia per la Vita è vicina e prega per le persone sofferenti per questo conflitto e per gli altri conflitti nel modno. Siamo vicini ai nostri Accademici ucraini il Prof. don Ihor BOYKO, il prof. Ivan LUTS, la prof.ssa suor Olha Giustina HOLUBETS ed alle loro famiglie.
Città del Vaticano, 24 febbraio 2022