Media Criticism of the Reform of the Pontifical Academy for Life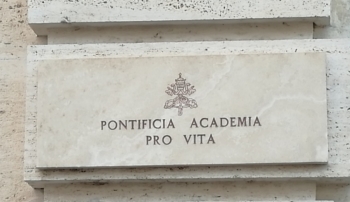 Rome, October 10 2022.- It is entitled "Media Criticism of the Reform of the Pontifical Academy for Life. An Analysis of communication management and the case of the 12.09.2020 tweet". We are talking about the doctoral thesis to be discussed on Monday, October 10 at the Pontifical Salesian University in Rome, for the Faculty of Social Communications. The thesis supervisor was Prof. Fr. Fabio Pasqualetti, Dean of the Faculty and newly appointed consultant of the Dicastery for Communication. The doctoral student is 'unusual': his name is Fabrizio Mastrofini, Media Manager for the Pontifical Academy for Life.
The thesis is divided into four parts and nine chapters.
Part One analyzes the changes in structure, staffing and themes implemented by Pope Francis when he appointed Archbishop Vincenzo Paglia as President of the Pontifical Academy for Life in 2016. This part lists the attacks received mainly in the press and on the web by conservative Catholic sites.
Part Two, theoretical in nature, analyzes "information disorder", which is carried out through software and communication techniques, in order to present a narrative of reality corresponding to the economic and political interests of certain power or pressure groups.
The case study in Part Three concerns the September 12, 2020, anti-racist tweet accompanied by a photoshopped image of Michelangelo's Pieta, in which Christ is depicted with black skin. That tweet was interpreted as an endorsement of the Pontifical Academy for Life to the Black Lives Matter movement and as a reference to the U.S. presidential election that year, completely distorting its context and purpose. The tweet, which reached 200 thousand views and received 400 comments, is analyzed as a concrete case of "information disorder" through specific quantitative and qualitative methodologies used for internet posts.
The final part concludes the analysis of the communication strategy of the Pontifical Academy for Life, illustrating its critical issues and showing that the drafting and implementation of a Communication Plan is necessary, as it is the main way to position themselves in a new and conscious way within today's communication scenario.