Symposium in Rome to seek ways to enhance the relationship between Religion and Medical Ethics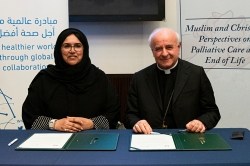 The Pontifical Academy for Life (Vatican City) and the World Innovation Summit for Health (WISH), an initiative of Qatar Foundation, have announced a joint symposium titled 'Religion and Medical Ethics: Palliative Care and the Mental Health of the Elderly', to be held in Rome on 11-12 December, 2019.
The first day of the symposium will focus on palliative care and will provide an overview of current practices in Qatar and the Arabian Gulf region in comparison to Western practices.
Discussions and presentations on the second day will focus on the mental health of the elderly. Speakers and delegates will examine the great potential benefits of religion and spirituality in improving the well-being and quality of life of elderly patients. service provision from an interfaith perspective.
The academic partners for the symposium will be The BMJ, who will be represented at the event by editors of the BMJ's Journal of Medical Ethics.
Archbishop Vincenzo Paglia, President of the Pontifical Academy for Life (R in the picture), states: "Palliative care and the health of the elderly are two specific themes of great interest to our Academy; Pope Francis has asked us to articulate an anthropology that sets out the practical and theoretical premises for conduct consistent with the dignity of the human person, and ensure that the tools are made available for critically examining the theory and practice of science and technology, as they interact with life, its meaning and its value".
Ms. Sultana Afdhal, CEO of WISH (L in the picture), adds: "WISH was founded to help build a healthier world through global collaboration. We greatly appreciate this opportunity to work closely with the Pontifical Academy for Life to bring experts together in Rome who can help shine a spotlight on important issues at the intersection of religious and medical ethics and that deeply affect people of faith at critical times in their lives."