A Life Monument now in Rome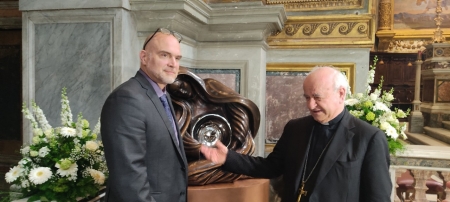 Archbishop Vincenzo Paglia, the President of the Pontifical Academy for Life, has blessed a new sculpture entitled "Life Monument" on Sunday, May 29 in Rome. The bronze statue, by Canadian artist Timothy Paul Schmalz, depicts the Blessed Virgin Mary with the unborn Christ Child.
The bronze statue, with its domed uterus made of stainless steel, is "an artistic celebration of the sacredness of every life," says the artist. Timothy Schmalz's religious sculptures have been installed in various locations in Rome and the Vatican. The "Monument of Life" has been donated to the Christian association "Italian Movement for Life", which defends the right to life at all its stages.
The blessing is taking place "at a time of growing awareness of the need to protect the most vulnerable lives," says a press release announcing the event. In his homily (here in Italian), Archbishop Paglia explains, "We are talking about the commitment for the woman (and her partner) to receive all possible support to prevent abortion, overcoming all the poor conditions, including financial, that sadly lead to the termination of pregnancy."
In addition to the statue in the Roman church of San Marcello al Corso, a sister sculpture will be permanently installed in Washington, D.C., after short stays in several other U.S. cities.