Inequalities in access to care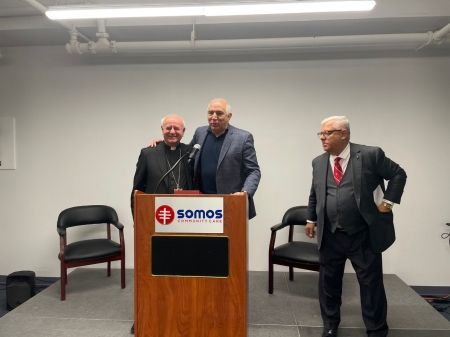 "Serious thinking" about inequality in health care "is a task we can no longer put off," Archbishop Vincenzo Paglia, president of the Pontifical Academy for Life, told a New York audience March 30.
NYC - March 30, 2022. (CNS - By Julie Asher) Archbishop Paglia spoke on "The Serious Problem of Inequality in Health Care" at the Bronx headquarters of SOMOS, a network of more than 2,500 community-based physicians, specialists and other health care providers as well as medical facilities, which care for 650,000-plus Medicaid beneficiaries.
In his address, he described the global scope of health care inequality; how COVID-19 "has tried the concepts of justice and inequality" in meeting people's health care needs; and what lessons have been learned during the pandemic over the last two years. This discussion of the challenge of health care inequality comes "even as we hope that the terrible pandemic affecting the whole world will soon come to an end," he noted. "This disaster, which has inflicted on us immense pain and two years of sorrow, must still not be an opportunity not gone to waste."