Global Crises and Public Health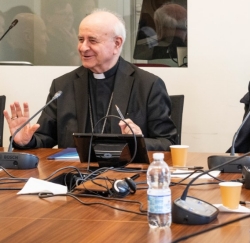 Rome, May 3, 2023.- Archbishop Vincenzo Paglia, President of the Pontifical Academy for Life, spoke at the 17th World Congress on Public Health in Rome in the early afternoon of May 3.
He spoke about the need for a greater justice and equity in access to medicines and health services.
He said among other things: "We affirm that life and health are equally fundamental values for everyone, but this affirmation is hypocritical if we are then disinterested in the choices that determine inequalities: despite our declarations and our proclamations, in fact, not all lives are equal and health is not protected for everyone in the same way. The public health perspective offers an original contribution to revealing these links and understanding how we can become responsible for them. Only in this way will we be able to convert our gaze and our actions to practice greater justice".