Ethical Issues: cooperation between PAV and "Abu Dhabi Forum for Peace"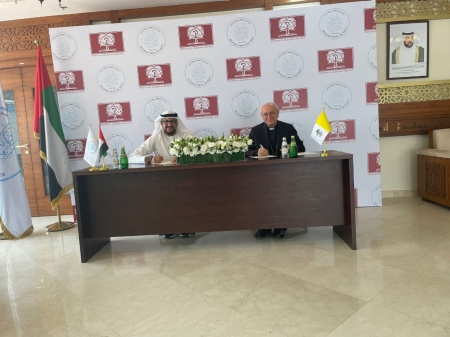 Vatican City, 23 May 2023. The Pontifical Academy for Life and the Abu Dhabi Forum for Peace, represented respectively by Archbishop Vincenzo Paglia and by Sheik Al Mahfoudh Bin Bayyad, signed a "Memorandum of Understanding"on the ethical issues.
"The Abu Dhabi Forum for Peace and the Pontifical Academy for Life have agreed to this MOU to collaboratively address ethical issues emerging in this world, especially in the scientific research and in the development of new technologies. The collaboration is grounded on a mutual recognition that sciences and technologies must serve humanity without compromising human dignity and societal harmony. Special attention will be given to ethical issues related to the development of artificial intelligence systems. The partners are committed to fostering an ongoing dialogue that integrates the perspectives of technology, ethics, philosophy, and theology, acknowledging the impact of scientific research on various aspects of human life".